CatTails Ambassadors
Phoebe and Cricket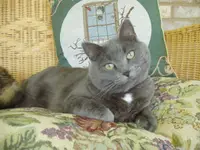 Phoebe was our first clinic cat that we rescued. Phoebe is sadly no longer with us but she will always have a place in our hearts. Donations offered to raise funds for less fortunate comunity kitties are made to THE PHOEBE FUND named in her honor. She spent most of her time at the front desk, and occasionally you could find her in the window, basking in the sun. She often gave us high fives, and she enjoyed sneaking Snow's food too!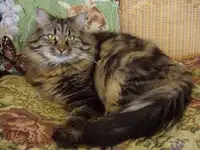 Cricket was a kitten when she came to us with a broken leg from the Humane Society. We corrected her broken leg with surgery, and then she was put up for adoption. She was even on the local news in search of a new home! Cricket was adopted out, but unfortunately her new kitty sibling wasn't fond of her. The owner brought her back to us, and she has stayed with us since. She enjoys watching the birds at the front window. Her favorite past time though, is treat time!